4 Must-Eat Meals that are spins on authentic Bahamian Classics
Conch is a staple in the Bahamian Diet. Thus 3 out of the 4 meals are conch dishes. Preparing this seafood is considered an art form of tenderizing and blends of seasoning. Thus it is easy to see why many chefs in The Bahamas are elevating dishes that have been passed on from generation to generation. The last few years have brought on a renaissance of creating new from traditional meals.
1.CCC: Creamy Conch Chowder
Conch Chowder is an authentic Bahamian soup is usually served as an appetizer. It is a mixture of bite-size conch and various spices along with sauteed vegetables simmered down into a thick tomato-based broth accompanied with freshly baked,  'down-home'  Johnny Cake. Johny Cake is a Bahamian bread that is dense with a hint of sweetness. For this spin Blue Tavern, Executive Chef Kevin Pratt swap the tomato base for cream.  The pairing of Johnny Cake is turned into a crouton topping, that adds texture to this savory soup.  Take a sip of this soup at The Blue Tavern, located in Baha Mar's Royal Blue Golf Club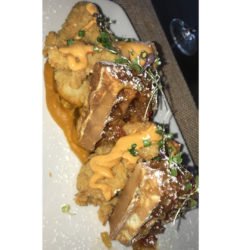 2.Conch & Waffles
Who said you couldn't have your American Classic with a Bahamian Classic? You get the best of both worlds with this Bahamian Southern twist called 'Conch & Waffles'. Freshly battered, deep fried, cracked conch is traditionally served with fries. However, Executive Chef Pratt decided to bring the southern sweet and savory mix by swapping out the fries with homemade waffles.This combination of sweet and savory is taken to even higher heights by the sweet potato puree, that is so good you may skip the housemade pineapple syrup.  Visit The Royal Blue Tavern to savor the sweetness of homemade waffles and the tenderness of the cracked conch.
"I want to say that this is one of the best things I ate in 2017 – absolutely perfect dish – Flawless" Chef Jamall Petty -Food and Beverage Manager at Courtyard by Marriott Nassau Downtown
   3. Fish Taco
                                                                     The delicacy fish is usually served to natives fried or stewed, turned out to have a twist to it. Fish is now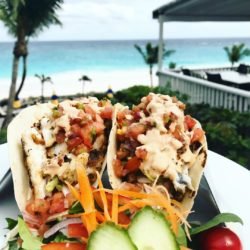 being served in The Bahamas between a soft corn tortilla shell topped with veggies. The chef at Runaway Hill Restaurant created an authentic Bahamian twist just in time for Taco Tuesday.
"Ten out of Ten! Seriously though… the Best thing I've tasted in ages, yes I'm raving, My mind is that blown" – Kathleen Blum
4.Tropical Conch Salad
Conch Salad is possibly the most quintessential dish in The Bahamian culture. If you visited The Bahamas, you probably had a bowl of traditional Conch Salad.  The 'newer' version is mix with fresh sweet fruits.  The Tropical Conch Salad is a refreshing mix of chopped conch, herbs, salt, lime, pepper, mango, apple, and pineapple. To taste from the originators of this trend visit Dino's Conch Stall, West Bay St.
*Tip: Call to make your order. This will cut some of the wait time.  Grab an ice-cold Kalik N' Chat to pass the remaining time.
 The Directions:
The Blue Tavern (at the Royal Blue Golf Club)
Dino's Gourmet Conch Salad